---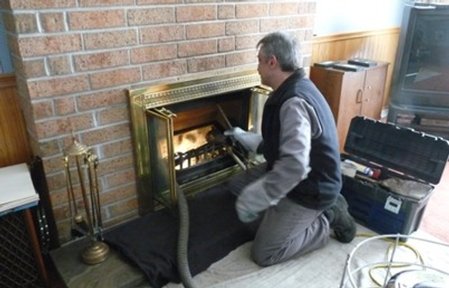 A chimney sweep should be a Trained and Certified Chimney Technician who can rid your flues of accumulated deposits and set your unit to running smoothly again. He/she should be able to tell you if there are any problems in your system and should be able to steer you into corrective measures to ensure your safe burning habits.
In order to find a well trained and professional sweep you should look for a few credentials from him or her before you hire them. A Word-of-mouth Referral is a good start; ask a neighbour, relative or friend who they use and why. In your initial telephone call to the sweep company, you should ask several questions before hiring.
This is where the chimney sweeps office should go into the WETT (Wood Energy Technical Training) aspect of their talk with you. They should mention that WETT Inc. (the training body) Certifies only the INDIVIDUAL Technicians, NOT their company. All WETT Certified Sweeps, Advisors, Installers carry photo-wallet cards that are currently dated and show their own personal WETT Certification Number. This Certification must be renewed every three years. The Technician will get a new card every year with their fee renewals.
To find a WETT Certified Sweep Near you , Visit www.wettinc.ca or Email to WETT Inc. and ask for several names.
Also ask if they belong to any Trade Affiliations, Guilds or Association. Builders Associations, What are their Certifications.In the United States refer to the National Chimney Sweep Guild [NCSG.org].
A WETT Certified Technician WILL have photo-Identification with them. Ask to see it...
Then ask WHAT the technician/sweeps will clean when they come to your home.
We are not responsible for emptying your firebox of old ash / debris when we arrive, please have the firebox empty when your sweep arrives.
A sweep should clean everything from the firebox or stove through any connection pipes, and the entire chimney.
For a fireplace this must include the smoke shelf and chamber. Your sweep will not clean out any lower ash-dump areas below the fireplace unless specifically asked. There will be an additional charge for this work as it is sometimes hard to access and difficult to clean. We advise NOT to use any ash-dumps as many have combustibles too close to their cavity.
For a stove it must include ALL interior smoke pipes, the actual chimney interior and the breach area which connects the chimney to the smoke pipes and stove. Treat your wood combination furnace the same way.
For furnace flues that are not wood fired, your oil or gas company should clean and service the furnace itself AFTER the chimney is swept. The furnace may require recalibration to the flue size for proper combustion. This will depend on the amount of residue removed from the chimney flues interior.
Once you have satisfied your requirements with the sweep company of your choice, set up an appointment and before he/she arrives please do the following...
Make sure the fire is out and has been for several hours. No sweep likes to burn themselves or their equipment on a hot appliance and chimney.
Remove as much of the accumulated ash and wood bits from the firebox or stove that you can.
Remove any delicate figurines from around the unit. JIC
Keep pets and children away from the worksite. Safety is a priority
If you have any questions about your unit or usage, now is the time to ask while your sweep is in the home
In the winter months, have the driveway well cleared and the roof near the chimney if possible
If you do the above, your relationship with your sweep will get off on the right foot and the sweep can get down to the job at hand and not worry. When the sweeping procedure is completed the chimney sweep should have left NO MESS behind him/her. The chimney should be free running and be empty of all residual soot and creosote deposits.
Email us if you have any questions Email us at aim@aimsweep.com