AIM CHIMNEY offers YOU
the following Services
Please go to our Product Pages for our lines of Quality EPA Certified Products
• CHIMNEY SWEEPING • INSPECTIONS AND EVALUATIONS •

• MINOR MASONRY CHIMNEY REPAIRS AND ADVISE •

Our thorough Chimney Sweeping service is assisted by a powerful vacuum that prevents any soot, dust or debris from entering your home atmosphere. AND We lay drop clothes in front of your unit to protect your flooring and hearth.

Metal or Poly Brushes are typed and sized to fit your chimney flue materials and dimensions exactly for the best possible effect on soot removal.

Every chimney and appliance serviced receives a BASIC Homeowner Evaluation of all visible areas. We always do MORE than just sweep the flue, we will do the short evaluation to see if all is in order and alert you to any issues we may find.

Or you may be needing / requesting a WETT Evaluation. These are defined by..

LEVELS 1 thru 3 [Basic / Comprehensive / Extensive] Code Compliance [WETT] Evaluations for Insurance, Realtor or Customer
For more information go to our INFO page and click FACTS
EACH Level of Inspection is a different pricing as Each Level involves Different methodology and timing. Commonly a Level 1 is performed by a Realtor or Home Inspector as a BASIC Inspection of your system.
A Level I inspection, is a ground level, visual inspection only . No doors are opened
A Comprehensive LEVEL 2 or 3 Inspection will go far beyond 'just looking' at the system
Pricing will vary from Level to Level of Inspection and may or may not include a Chimney Sweeping, but should, as a clean chimney is a necessity to enable our WETT Certified Technician Sweeps to look for any hazards or defects that may be hidden by accumulated soot in the channels.
We will check for Code Compliance & Proper Clearances and Installations for stoves, inserts, prefab chimneys and smoke pipes.
With our specialized video equipment, we can look into your chimney system [upon request] and behind your walls with the proper equipment that we are trained to use.
RELINING & NEW INSTALLATIONS

We use quality, listed and warranted STAINLESS STEEL & ALUMINIUM chimney liners and components in both flexible, rigid and insulated models.
All liners are sized for the Appliance to provide proper drafting of your woodstove, insert or fireplace.
We reline chimneys for wood, oil, gas, propane and oil burning equipment and inserts.
Relining can prevent early deterioration of flues & prolong the life of your chimney. Highly recommended for masonry flues venting propane, oil or gas appliances.
CHIMNEYS MUST BE SWEPT OF ALL SOOT/CREOSOTE/DEBRIS BEFORE ANY RELINING IS BEGUN -FOR ANY FUEL

REBUILD & REPAIRS

Minor Rebuilding from above the roof with quality building supplies to proper compliance heights. We will do our best to match your existing brickwork as closely as possible to ensure a uniform look.
If the job is more than we can do comfortably, we do have a list of Quality Masons we can refer you to.
Tuckpointing is performed to ensure the integrity of the mortar work between existing brickwork and reparation or replacement of the cement crown cap can be done to ensure proper moisture runoff.
Clay flue tile replacements for those broken and cracked upper tiles.
Tuckpointing and repair to interior fireboxes and smoke chambers.

WE ONLY DO REPARATION WORK ON CHIMNEYS NOT ON OTHER MASONRY COMPONENTS OF YOUR HOME
INTERIOR VIDEO INSPECTION SYSTEM
Ever wonder exactly what condition your chimney REALLY is in??
Our video inspection service will provide you with visual knowledge. We can also provide you and/or your Insurer with still photos of trouble spots or a video tape for your Insurance requirements or claims. This Video Look at your INTERIOR chimney flue will show any damage, cracks, broken tiles, blockages, deterioration, missing mortar or other problem areas within each flue. THIS SERVICE IS PERFORMED UPON REQUEST ONLY.
RAIN CAPS - SCREENS & FIREPLACE ACCESSORIES
Quality unibody chimney caps IN BLACK METAL OR STAINLESS STEEL. with well formed solid flat tops that will prevent water, snow and hail from entering your chimney flue and causing damage and rust
Rain entering your masonry flue can and will rust away the top of your heat-form fireplace, unlined insert and your damper system. It also plays havoc with your mortar work as it mixes with the soot/creosote and forms a mild acid which slowly eats into the mortar. This slow erosion will eventually cause your tiles to breakdown. This makes for an unsafe chimney.
The caps welded in place screens will deter birds, bats, airborne debris and small animals (squirrels and raccoons) from entering your chimney flue and setting up housekeeping.
These nests annually cause blockage problems within a flue system. Blockages can cause back-puffing and can contribute to CO poisoning. A blocked furnace flue will cause the emissions to re-enter your home as they cannot exit the chimney. Blockages in a fireplace or stove flue can cause chimney fires when ignited.
We also carry a full line of stainless steel caps with lifetime warranties.
Custom sizes are available to order.
Top-Sealing Damper Caps are available to replace broken and missing damper systems in your fireplace. They are also an airtight seal against the elements (rain) and nature (birds and animals) when your fireplace is not in use. Stop down-drafting in unused masonry systems, keeps in your heat from leaving through the chimney.
HUMANE ANIMAL & BIRD REMOVALS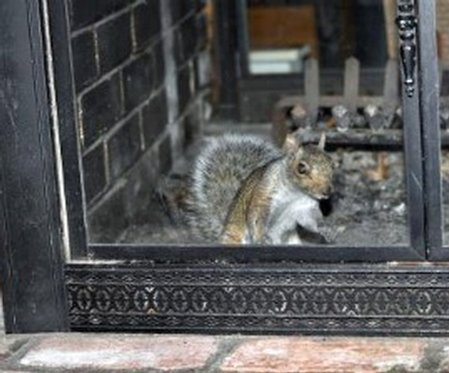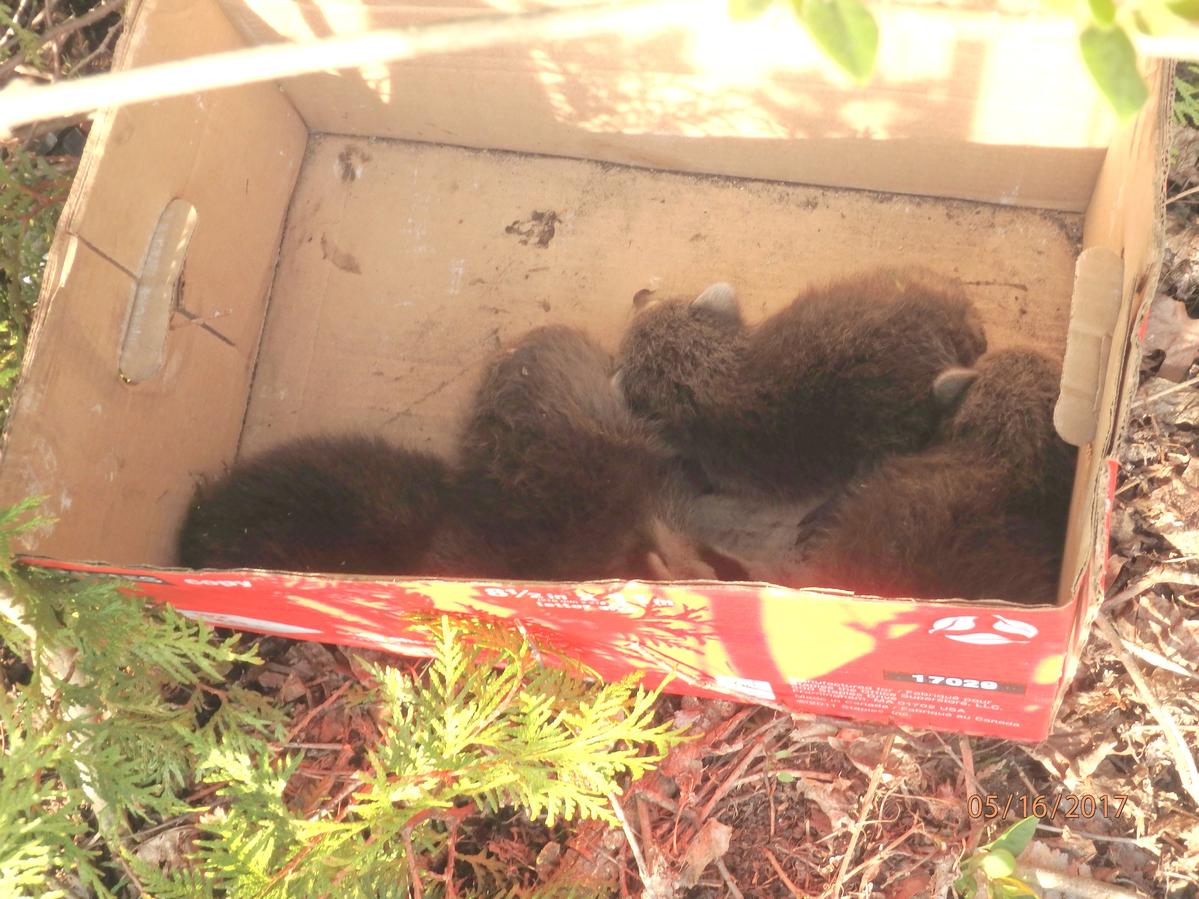 We offer Humane and safe removal of birds, bats, raccoons, squirrels and their young. Babies are gently removed and put in box on property so mom can collect and relocate where possible
If you hear mewling and squeaking in the spring from your chimney, chances are mother nature has put up vacancy sign for the local fur bearing critters to nest in YOUR chimney. Imagine.... non-paying renters LOL
Once the critters leave, their nesting materials can and will cause blockages and fires within the flue channel. It is important to remove these creatures and any nesting as soon as is possible to prevent any potential problems.
Capping the chimney, with a well made rain cap with screen, once they are gone, will deter their return.
NOTE: For all chimneys, you should look up to the chimney and check your cap after any heavy wind storm to ensure that it is still intact and not blown off.
Ash-Pits

---
The Sweep does not generally clean out the Ash-pit below a fireplace. These areas can sometimes be cavernous and time consuming.
If you wish this done, INFORM the office when you book the appointment so that they can arrange the technicians' time and inform you of any additional charges. This will be charged by the hour not a set price. The homeowner should make it their responsibility to clear this area and remove this ash themselves regularly. One or two buckets a week until empty. Then have the ash-pit opening sealed off in the firebox.
We have personally seen ash-pits with wood beams running across them that have been blackened by falling hot embers and ash that has been swept into them. We advise people NOT to use them if they can avoid it and to fill them with masonry.