A BIT ABOUT US AND OUR HISTORY
At AIM Chimney Sweep & Stove Shop, we have been serving our clientele with peace of mind since 1977.
With 40 + years in the Chimney Sweep & Hearth Care Business, we have what it takes to serve our clients with knowledge, expertise and care.

Our team is made up of Individually WETT Certified Road and Office Professionals who are informed & safety conscious, with your home in mind.

Along with regular Chimney Sweeping Services, we Perform Code Compliance Inspections and Evaluations of your wood heating appliance and chimney systems to ensure proper installation practices have been met. Our Team follows Manufacturers Written Instructions/Specifications and CSA Standards and Ontario Building and Fire Codes for our Installations and Code Compliance WETT Reports.

We are dedicated to Continuing our Education in the Wood-Heat Trade so as to Educate our Clients on Properer Technics and Methods of Burning.
MEET THE TEAM
VINCENT AUBE – CEO

WETT Certified as:

Solid Fuel Space Heating Technician, Chimney Sweep, Installer,
Comprehensive SITE Inspector

Skilled in not only Routine Maintenance but in Code Compliant Installations
and Reparations to your heating systems
Our Chief Trouble-Shooter

YVETTE AUBE – CAO

WETT Certified as:

Solid Fuel Space Heating Advisor, Chimney Sweep,
Comprehensive SITE Inspector

She is in the office daily to help answer your Wood-Heating questions
Yvette works as our in office Technical Advisor but also is our Spare On-Road Tech
Yvette IS your Chimney Chick


SHANNAH McGUIRE-AUBE – part Time Office

WETT Certified as:

Solid Fuel Space Heating Advisor, Chimney Sweep, Installer, Basic Inspector

Shannah is back working Part Time in the office with her
Professionalism and dedication to Client Care
and Trouble Shooting
Shannah also works as our Product Manager


JARED AUBE – Crew Chief

WETT Certified as:

Current Status is a Certified Technician Chimney Sweep with his
Successful Completion of Phases 1 / 2 / 3 / 4 and 5
which he passed with quite respectable grades.

Jared is working in Lead Truck as our Team Leader.
He runs his truck with his brother Carter.
The clients love that team!!


CARTER AUBE



The Newest Certified Member of Team Aube
Carter has been working with us off and on for many years and recently
was awarded a Bursary to Complete his WETT Training.
He has achieved his Certification levels.
He works in tandem with brother Jared and our main sweep team.
WHAT WE DO TO EDUCATE OURSELVES AND OUR SERVE CLIENTS BETTER
During the course of the year, our staff attends many Training Seminars and Sessions throughout Canada and the United States. This dedication to the advancement of our knowledge in our chosen field reflects through our products and services. It also shows our clientele the level of commitment we have to the continuing education and knowledge we feel is vital in serving you to the best of our capabilities. This way we can bring to you, the best of new technologies, methods and service to make your Burning Experience a pleasant one.
------------------------------------------------------------------------------------------------------------------------------------------------------------------------------------------------------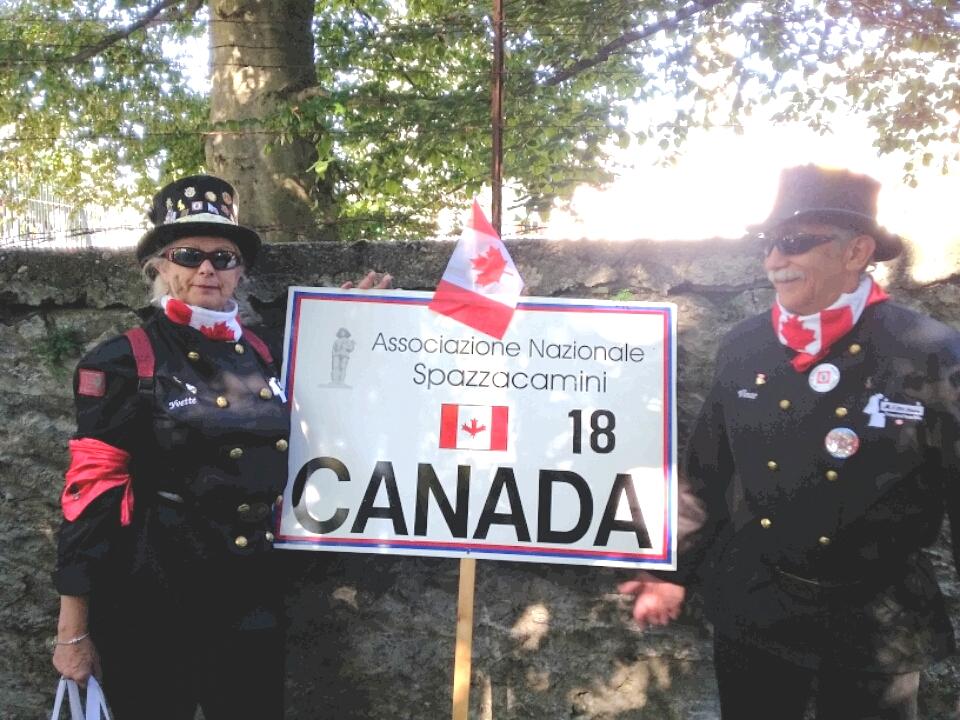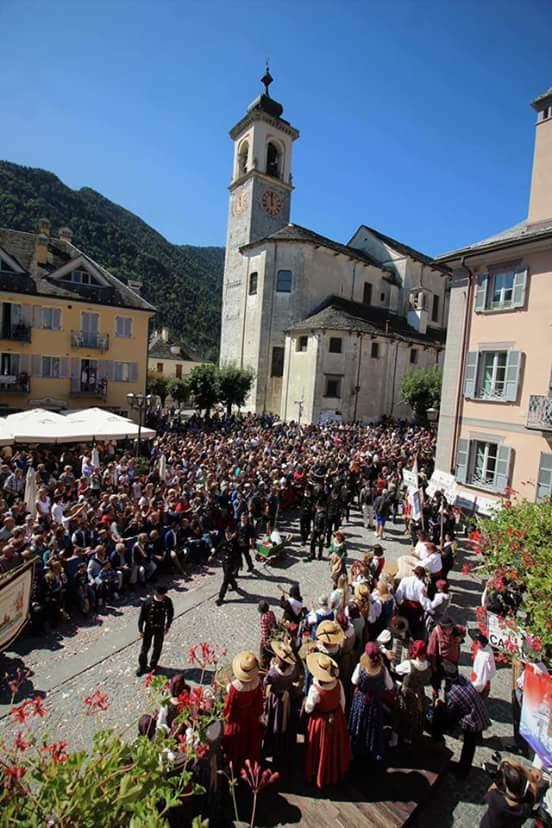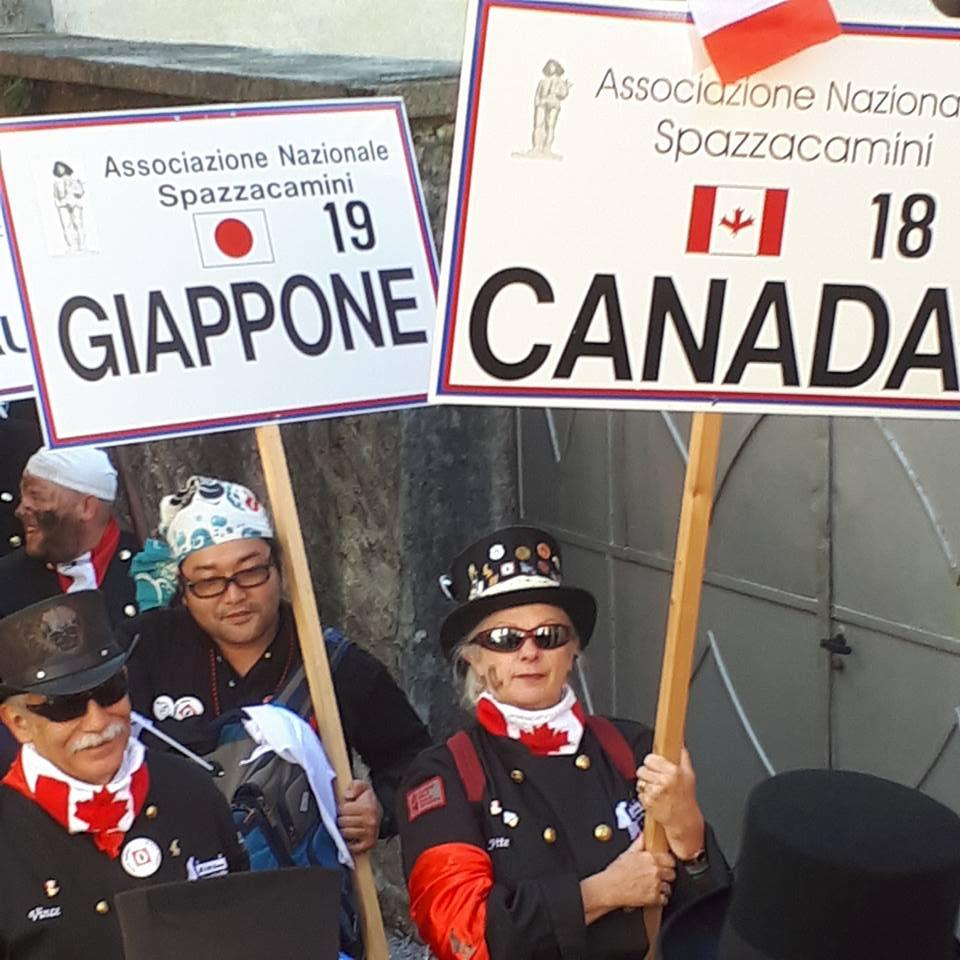 In 2006 /2017 /2019
Vince and Yvette visited Italy to attend the Spazzicamino [Chimney Sweep] Festival and represent the Canadian Sweeps
They Attended this Annual Festival of International Sweeps to bring greetings from the Canadians and exchange information.
They were the FIRST Canadians to have ever attended this festival in 2006!
They were warmly welcomed, went on Parade and forged International Friendships with many sweeps from all over the European Continent and beyond. What a great way to gain knowledge from all over the world in our Trade
---
AIM's Contributions to the Trade (including but not limited to):
We have taught seminars and classes in the US and Canada on writing Evaluation Reports for Code Compliance.
We have held seminars on Hands-On installations of Solid Fuel chimney systems and Liners for the Sweeps Guild in New York State and at Forums and Venues in Ontario Canada.
AIM has taught seminars to Building Inspectors and Realtors on how to perform Basic Inspections before a home is sold and when it is time to refer the situation to a WETT Certified Professional
Aided in the NCSG, HPBAC and NYSCSG with their Annual Auctions
Providing volunteer hours to Conventions with NERAFE, NCSG and HPBAC
Worked on the Board for OCSA, CSAC, WETT and HPBAC
Lobbied WSIB for lower premium rates for the Chimney Sweep Trade [ and won!! ]
Do Charitable hearth Work to help those is dire need
Teaching/Mentoring new sweeps with the ins and outs of the business
Advise other sweeps and Inspectors when they run into a difficult situation or require help on a job site
They are always there when called upon in the sweeping trade and are advocates of a better way to do it because.....
"A Good Sweep'll Do That"
---
Trade Memberships
Wood Energy Technology Transfer Inc. (WETT Inc) www.wettinc.ca

Vince has been a Certified member since 1989, past Board Member
Yvette has been a Certified member since 1993, currently sits on the Communications Committee
Shannah has been a Certified Member since 2008
Jared has been a Certified Member since 2017
Carter has been a Certified Member since 2020

National Chimney Sweep Guild (NCSG) www.ncsg.org

Members since 1992
Vince & Yvette are currently the Canadian Liaisons to the National Chimney Sweep Guild

Hearth Products Central Chapter. http://www.hpbacanada.org/

Yvette served 2 Terms on the Board and working with the Planning Committee for Symposium & Training Conventions
---
Local Memberships and Affiliations

Southern Georgian Bay Chamber of Commerce. http://www.southerngeorgianbay.ca/
Members of this Southern Georgian Bay Chamber since moving from Durham Region to Simcoe County in 1994. Visit us on the link from our LINKS page to learn more about this beautiful cottage region of Ontario Great family fun. Live theatre, skiing, snowmobiling, fishing, boating, camping. and MORE!!! Come visit our town for year-round fun!!!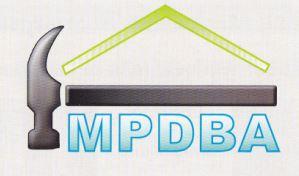 Midland Penetanguishene Builders Assoc www.mpdbuilders.com
Past President and Current Board Member of this local Association of Caring Contractors and Related Trades who are..
. Building a Better Place to Be in Simcoe County

Partially Metis Run Company
______________________________________________________________________________________________
Past History..
Northeast Regional All Fuel Expo & Chimney Sweep Convention Committee (NERAFE) And
National Chimney Sweep Guild Conventions (NCSG)
Vince & Yvette were on the planning committee of the NERAFE for over 10 years and continue to aid in Chimney Sweep Training and Knowledge at Convention and continue to this day with the NCSG Annual Events
Yvette was Co-Chair of the NERAFE 1999 Show in Niagara Falls, Ontario.
Ontario Chimney Sweeps Association (OCSA) - The Chimney Safety Association of Canada (CSAC)
Members since 1990 The Association has since Ceased[2015]
Vincent sat on the OCSA Board of Directors for 7 years and was previously the Treasurer for 6 years.
Yvette sat as the OCSA Secretary for 6 years and founded the quarterly OCSA newsletter & regularly contributes to the new CSAC Newsletter. She was the 2004 thru 2008 President of the Association.
Assoc. of Registered Wood Energy Technicians of Ontario (ARWETO)
Members since 1990
Yvette sat on the Board of Governors for two terms of office before ARWETO was absorbed into WETT Inc's main office, which is based in Ontario